Best Inflatable Stand Up Paddle Boards on the Cheap (2021)
There are quite a lot of cheap inflatable stand up paddle boards (iSUPs) out there nowadays.
Often times there's a reason to why they're cheap (I've delved into some of the cost factors in this article). All that makes finding the right one a little tricky. You see, some of them might not have a warranty, they might be poorly documented, poorly constructed, or have no customer support.
However, there are still quite a few gems out there. They just needed to be found.
Along with this SUP buying guide (which I really suggest you quickly skim through), let's have a closer look at those few high value low-cost iSUPs I've come across. The first ones on the list have customer support so damn good you'll start to think they mislabeled the price tag. See which you fancy more and check out the corresponding review.
TOP 10 Actually Cheap Inflatable Paddle Boards
Before you go any further, let's be clear about a couple of things when it comes to cheap iSUPs in general. Wouldn't want you to make a bad decision.
Although cheap and tempting, these low-cost high value iSUP packages are primarily entry level boards aimed at lighter paddlers and not so much for the big guys nor the highly competitive paddlers. These are more in line for recreation (for the extreme thrill seekers I'd recommend this list of inflatables instead).
These here however are a good option for simple recreational paddling in calmer waters. They're good enough for mainly cruising, but also for river riding, fishing, yoga, some surfing smaller waves, etc (more about types of SUP activities in this article), and not so much for conquering the killer waves, full-on white water river riding nor racing on a competitive level. And thus they're almost always classified as "all-around" type of inflatable stand up paddle boards. That means they're not dedicated to any one single area of SUP only, rather these are jacks of all trades, masters of none.
Some of the cheap ones I've come across have turned out to be real gems packing an incredible value on the cheap.
#0
Red Paddle Co

or

Bluefin

Just to make sure we're talking CHEAP… Of course you can get yourself a super expensive true all-around from Red Paddle Co or equivalent that can take a beating and perform fairly well even in the more extreme areas of SUP, but that's gonna cost quite a lot.

Something more affordable would be Bluefin iSUP boards, my personal pick in 2021, or equivalent, but which can still be rather on the heavy side for the wallet compared to these cheap ones here (unless they went on a hefty sale)…

However, in case you do have enough excess money and you're looking to get into this hobby a lot more seriously, you can pick one you fancy most from this best inflatable SUP article.

My experience tells me it's much nicer to get into the paddle board game without spending a grand per board package!
 #1 iRocker Nautical 10'6 iSUP
The iRocker Nautical 10'6 iSUP board measures 10′6 x 32″ x 6″ (length x width x thickness), weighs 20 pounds and has a max optimal paddler weight limit of 240 pounds. Package includes a fiberglass paddle – premium quality accessories – everything you need to get on the water and some more.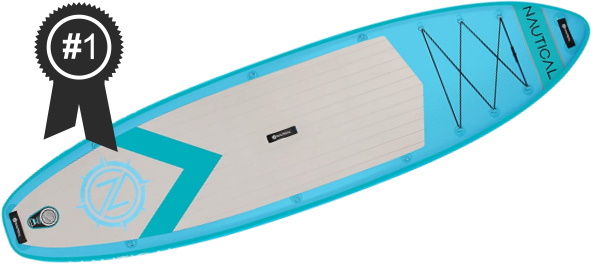 Unless the pricing jumps up again at some point, Nautical is back on this list as one of the highest quality board packages on the cheap. iRocker is known to have high quality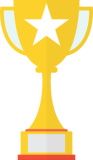 inflatable paddle boards and accessories and so it's not much different with this one, though obviously it's not as high quality as their high-end boards. Help me out a little, common sense… The quality, features, support, warranty – it's all top notch in my book regardless.
The great thing about big brands bringing something into the cheaper segment of the market is that they can't really screw up or else it would impact the brand image as a whole (compared to some no-name brand that can simply just shut itself down and re-emerge as a new brand with a slightly different board). So in proxy, even if you end up with an "oopsie" in your hands (board gets damaged during transportation, etc), you can assume support is always there to meet you (within reason).
#2 Roc Explorer 10′ iSUP
The Roc 10′ iSUP board measures 10′ x 32″ x 6″ (length x width x thickness), weighs 17.5 pounds and has weight limit up to 300 pounds. This one comes with everything you need to get on the water.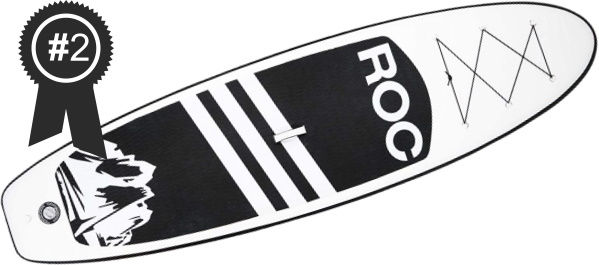 Very similar ordeal as was with the Nautical board – the pricing jumped way up and I had to remove them from this "cheap" list some time ago. I had my doubts with this board, but I do find it to be decent, at least at first, but they seem to have cut corners when it comes to accessories, perhaps somewhere else as well. Overall I suppose it's a good trade off given the price (assuming it doesn't just take off again – maybe they were just testing the limits of how far they ccould go and settled down for something more reasonable now price-wise).
Another thing not perfect with it is the support compartment which is very down to earth, not one with rose tinted glasses ready to jump to your aid when you've hit your toe against a rock while out paddle boarding. I think it stems from them having too much confidence in the quality of their boards and so they might suspect your own human error to be the cause of any atypical problems. They (support) are happy to help within reason though.
#3 Bote Drift Classic 10'8 iSUP
The Bote Drift Classic 10'8 iSUP board measures 10′8″ x 33″ x 6″ (length x width x thickness), weighs 19.6 pounds and has a recommended max weight capacity of 250 pounds. The packages includes everything you need to get on the water.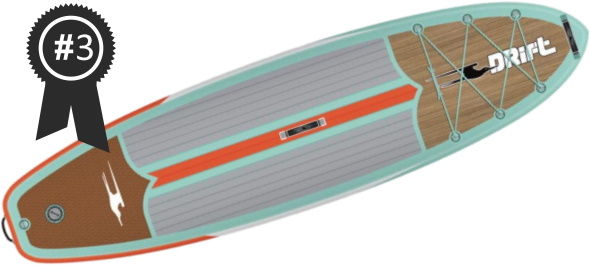 #4 Retrospec Weekender 10′ iSUP
The Retrospec Weekender 10′ iSUP Board measures 10′ x 30″ x 6″ (length x width x thickness), weighs 17 pounds and has weight capacity of 275 pounds. The package comes with everything you need to get on the water.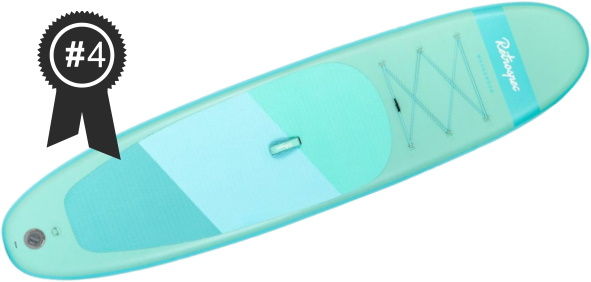 #5 Dama Fresh Life 11′ iSUP
The Dama Fresh life 11′ iSUP board measures 11′ x 32″ x 6″ (length x width x thickness), weighs roughly 22 pounds and has a recommended max weight capacity of 352 pounds. The packages includes everything you need to get on the water.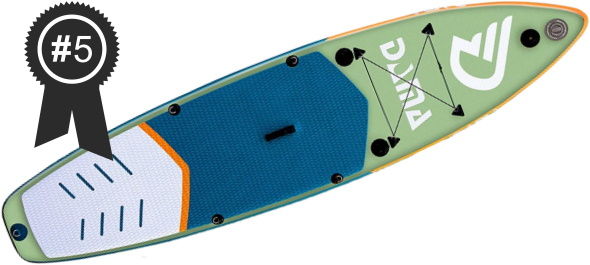 #6 SereneLife Free-Flow 10'6 iSUP
The SereneLife Free-Flow 10'6 iSUP board measures 10′6″ x 32″ x 6″ (length x width x thickness), weighs 19.6 pounds and has a recommended max paddler weight capacity of 275 pounds. The packages includes everything you need to get on the water.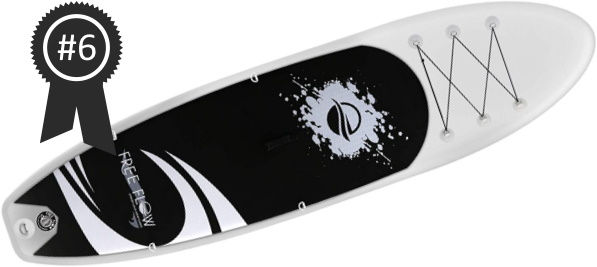 #7 Aquaplanet 10ft 6″ Pace
The Aquaplanet 10′ 6 PACE iSUP board measures 10′6″ x 31″ x 6″ (length x width x thickness), weighs 24 pounds and has weight capacity up to 265 pounds. This one comes with everything you need to get on the water. REVIEW: Aquaplanet 10ft 6″ PACE iSUP.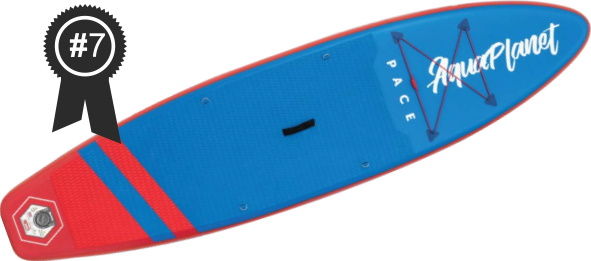 When I first researched into the cheaper segment of inflatable paddle boards, I found Aquaplanet to offer the best deal at such a price point. However, within a couple of years things have changed since the top brands started introducing their own boards on the cheap. Although Aquaplanet boards have fallen off the 1st spot, their boards are still surprisingly decent given the price bracket. It's mainly the fabulous support they provided at the time when no other cheaper brand did.
These guys work exclusively on offering an adventure for an affordable or should I say cheap price by having SUP boards that pack a great value all the while providing exceptional customer support on top of that.
Assuming they haven't changed from last year or the year before, Aquaplanet's customer support is simply just incredible!
#8 Runwave 11′ iSUP
The Runwave 11′ iSUP board measures 11′ x 33″ x 6″ (length x width x thickness), weighs 24 pounds and has a max weight capacity of 352 pounds. The package comes with decent quality accessories, everything you need to get on the water. REVIEW: Runwave 11′ iSUP.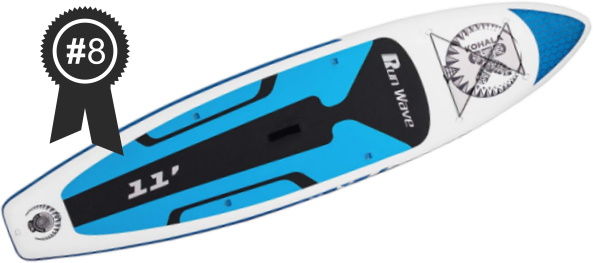 #9 FunWater 10'6 iSUP
This FunWater 10'6 iSUP board measures 10′6″ x 33″ x 6″ (length x width x thickness), weighs 17.6 pounds and has weight capacity up to 300 pounds. This one comes with standard quality accessories, everything you need to get on the water. REVIEW: FunWater 10'6 iSUP Tiki Cruise.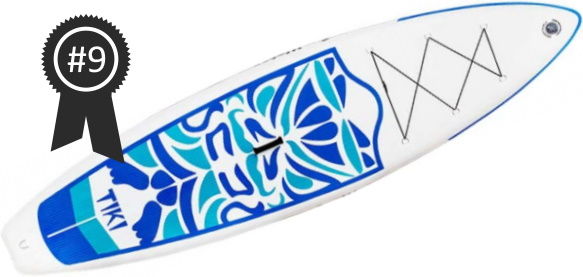 Before you hiss at this board, hear me out! Rather than outsourcing the manufacturing to some Chinese company, they themselves are the Chinese manufacturing company! This makes them NOT just a knock-off but an actual dedicated iSUP brand.
And here's the kicker: as they're dealing with Western markets here, they've got an image to uphold. It's not just some random no-name temporary company trying to sell a knock-off for a quick buck in the West to then disappear with profits and a trail of whining customers. These guys obviously care and have been in business for already 12 years.
So far the appointed customer support is pretty good in terms of solving problems.
#10 Fbsport Premium 10'6 iSUP
The Fbsport Premium 10'6 iSUP board measures 10′6″ x 31″ x 6″ (length x width x thickness), weighs roughly 22 pounds and has weight capacity up to a 280 pounds. This one too comes with everything you need to get on water. Review: Fbsport Premium 10'6 iSUP.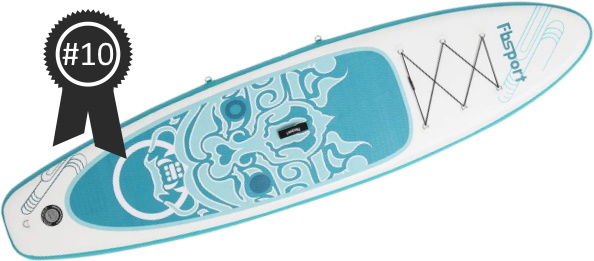 Going Cheap – FAQ
iSUP Accessories: Manual or Electric Pump?
All of these cheap board packages come with a manual handpump, some better than others. That's not common for just the cheaper packages, most if not all inflatable paddle board packages tend to include a manual handpump only.
It would take roughly 300 pumps to get a typical inflatable paddle board up to 15 PSI. It can be quite a workout, but there is an alternative option out there.
An electric pump can be bought separately and in most cases is compatible with all the inflatable paddle boards on the market today as they tend to use a universally fitting inflation valve (Halkey-Roberts, a.k.a HR valve).
Explore all the inflatable SUP accessories.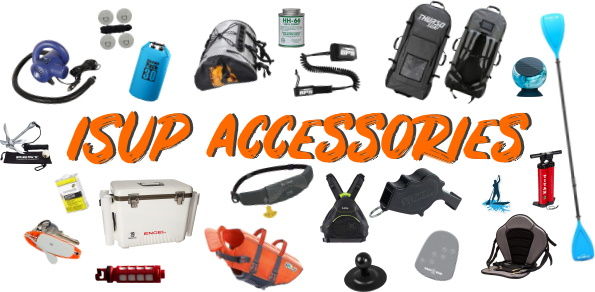 What's the Difference Between the High Priced and the Low Priced Inflatable SUP Packages?
Assuming we're talking about the ALL-AROUND type of iSUP board packages, the difference between the high and low priced SUP packages comes down to the quality of its contents.
quality of the construction of the board
quality of the accessory items in the package
Overall, a higher quality board (usually higher priced as well) is more reliable as it can take a beating and thus lasts longer when compared to a lower quality board. You can take a cheap board a long way by simply doing a little maintenance every now and then – most people simply don't bother with that and so they simply get a board that lasts exactly as long it takes for certain critical parts to degrade enough over time…
Note that a higher priced board does not necessarily mean it was higher quality.
Usually the sellers mention how many layers of what quality PVC layers there are in their inflatable board and in what way they're constructed. Some of the well-known brands have upped the price by having the layers connected in a more efficient way or by having more layers of PVC whereas the cheaper and smaller brands usually always have just a single layer PVC (even when cheaper ones say they've got 2, they mean they've got 2 PVC tapes at the rails but not around the entire SUP… Just another way of deceiving you). More layers usually make the board more sturdy (like a hard board) and last longer in the more rough conditions. For general use, a single layer PVC can do just fine.
Have a look: how much do inflatable SUP cost in general?
But then comes the additional items in the package like the paddle, pump, ankle leash, backpack, etc. Apart from the board itself, the paddle is another absolutely necessary and the more expensive item in the package. The lower priced packages usually have a lower quality paddle, pump, and backpack. The paddle and the backpack can do the job, but the pump is often what people want to replace entirely by buying an electric pump separately.
How Do I Find a Cheap Inflatable Stand Up Paddle Board That Best Suits My Needs?
The first question you must answer is what it is you want from paddle boarding. All-around iSUP boards can vary a little bit.
Are you looking for stability to simply just cruise around calmer waters? Maybe you're looking for speed to feel the sea breeze or what have you. Perhaps you're looking to ride the waves or to travel some longer distances instead. What if yoga or fishing were the things you sought after from the start? Perhaps you're not sure and simply want to do a little of it all (all-around), because that's an option too! Click here and let this post quickly guide you through the process of finding you your board.
Is Stand Up Paddling (SUP) Something I Can Do?
It's actually a relatively common question.
The answer is something you probably already knew: of course you can, probably… I mean, what's to stop you? This sport is suitable for people of almost all ages and in almost all water and weather conditions. I say "almost" because the cheap ones aren't exactly good for all out whitewater river riding or surfing and the like.
Otherwise just take a deep breath – I'm well aware that there's more of water than there is of you, but you're smarter than water and that's what puts you on top! "RAAR!" That's to say you probably very likely can take up paddle boarding.
Where Can I Use My Cheap Inflatable Paddle Board?
Any body of water will do as long as it's not filled with some creepy creatures from Amazon Rainforests.
Here's a handy take on where to travel and explore on your SUP in and around Britain.
What Do I Need in Order to Start With Stand Up Paddling?
All you need is equipment and a body of water (+ courage and knowledge).
When it comes to equipment, usually an iSUP package includes everything you need to get on the water:
Inflatable stand up paddle board + fins,
Paddle,
pump,
backpack carry bag,
ankle leash,
instructions,
repair kit,
(+ extra gadgets).
Be it lakes, rivers or seas, I'd say courage comes most in handy for when you start off on white water, knowledge for when you think you remember the river having a 60-feet waterfall somewhere about… *falls down* …And of course you need the right equipment (in the case of white water, a paddle is sufficient) to function properly in cases like that, for example. From here it's all just fun because you knew there to be that waterfall, so you prepared and used your paddle to paddle towards safety, and you fell only in your imagination.
See? It didn't take much to get started. White water was the more difficult one to start with anyway… Usually people start on lakes or calm rivers, and for that you really don't need much at all.
What Difference Does It Make What Paddle I Use With a Cheap Board?
For general use, an aluminium shaft paddle will do you just fine, it's when you're going to put some real effort into paddling you might want to invest in a paddle that has more suitable attributes. Here's a handy take on what the djfferent SUP paddles are about so as to make sense of them.
What Are the Benefits of Stand Up Paddle Boarding?
There are plenty of benefits to stand up paddle boarding, whether you go cheap or not.
It's for all ages and various activites.
SUP can be therapeutic and calming or exciting and exhilarating.
It's a great full body workout and fresh air in the outdoors is good for your body, mind and spirit.
Is Inflatable SUP Safe?
Are you perhaps immortal? I for one am not. So with that in mind, as long as you know yourself and the water, stand up paddle boarding is pretty darn safe. For more details, for there are ways for things to end up really bad, simply glance over this SUP Safety post. And in an effort to bring clarity to some things, check out this video about sharks.
And remember. Cheaper inflatable stand up paddle boards aren't so much meant for the more rough water conditions but rather for calmer waters.
Do I Need to Be Fit for Paddle Boarding?
Not necessarily. It helps when you're already fit, but it's not a requirement as there are plenty of iSUP boards meant for everybody even among the cheap iSUPs.
Are There Any Age Requirements?
Depends on what you're looking to do with your paddle board. Essentially, there's no real age requirement unless you're looking at the more extreme types of paddleboarding (whitewater, surfing and racing).
There should be no problems with the more calmer types of paddle boarding like recreational paddling on calmer waters or touring, cruisng, yoga, fishing, etc when it comes to one's age. I really don't see a problem there at all. Be it somebody in their 10's or below, and up in their 60's, 70's, 80's and even 90's and perhaps even in their hundreds! The cheap stand up paddle boards are almost a perfect fit for that.
Can My Dog Ride With Me?
Your dog can ride with you on your inflatable SUP board, yes.
The reason for that is simple. Inflatable SUP boards aren't that easily damaged when compared to hardboards. That's why inflatables are often, if not always, used in whitewater river riding where bumping into rocks is inevitable. Inflatables don't scratch, ding or scar like hardboards. But I personally wouldn't really use a cheaper one for the whitewater river riding where there is absolutely no way to avoid bumping into rocks, I'd go straight for something more specialized in that case. And since we're on the topic of river riding, I'd recommend you to quickly check out this SUP safety article I've written.
What Is an Inflatable Stand Up Paddle Board Made of?
In short, an inflatable SUP board has drop-stitch material for inner core where the air is pumped into also, one or more PVC layers laminated around it with one or more layers of PVC rails connecting the bottom and top half of the laminated pvc layers together. On top of all that is usually a non-slip EVA foam deck pad for people to comfortably stand on when paddling. With everything pretty much the same, the cheaper iSUPs usually have just 1 PVC layer instead of multiple. Learn more about SUP construction and materials here.
The next question, after hearing that an inflatable SUP board is filled with air would be whether it can pop like a balloon? …Since it's filled with air and all. In short: it can pop like a balloon, but that's when you leave it outside for many days on a super hot and sunny month. The pressure inside would increase due to the heat and PVC material would simply be stretched out to its limits. Avoiding the popping is as easy as letting some air out of the board when you store it inflated.
An inflatable SUP popping would make a great story though. I remember my neighbour's inflatable make quite a mess in his shed with all the dust coming out of it when his inflatable SUP popped in his super hot shed. Something to learn from. Though an inflatable SUP popping is rather rare as it involves serious luck/unluck (need a really hot environment and direct sunlight) and takes an effort on your part as well (to leave it some place like that).
Other Cheap iSUP Boards
Having researched 2021's inflatable SUP market situation, there are loads more that unfortunately, for one reason or another, I didn't quite include in this best budget inflatable SUP article. Some of them can still be a great option for you, most however tend to be not so great…
Vilano,
Redder,
Goplus,
Rumlad,
Homde,
Streakboard,
MaxKare,
Gymax,
Goosehill,
Zupapa,
Malisu,
Wavestorm,
Fotoron,
Uenjoy,
Ancheer,
XQ Max,
Pathfinder,
Blue Water Toys,
Leader Accessories,
Feath-R-Lite / Feather Lite (a brand of FunWater),
Tuxedo Sailor (a brand of FunWater),
Peak,
Bestway,
AKSPORT,
Umami,
Pexmor,
Bright Blue,
Acoway,
Beyond Marina,
Murtisol,
Swonder,
GHT,
Aukai,
Riber,
Uboway,
Simple Paddle,
Fostoy,
Aqua Plus,
Aqua Spirit,
iSUNLIT,
Yiilove,
Xspec,
Pexmor,
Happybuy,
Merax,
Nalanda,
Wavey Board,
Sudoo,
Dama,
Driftsun,
Soopotay,
Shaofu,
YASKA,
Miageek…
EXTRA READING
(Links open in a new tab)
The TOP 13 Best Inflatable Stand Up Paddle Boards in 2021 | post | sunsetpaddler
Exploring Inflatable SUP Accessories & Their Uses | post | sunsetpaddler
Pink Inflatable Stand Up Paddle Boards in 2021 | post | sunsetpaddler
Magnificent stand up paddle board Stickers | post | sunsetpaddler
How much do inflatable SUP boards cost? | post | sunsetpaddler
Is a cheap inflatable SUP worth it? | post | sunsetpaddler
How to choose a SUP paddle? | post | sunsetpaddler
iSUP care & maintenance | post | sunsetpaddler
SUP buying guide | post | sunsetpaddler
SUP boards list | post | sunsetpaddler
What is PVC? | post | sunsetpaddler
SUP safety | post | sunsetpaddler