Acoway 10'6 Inflatable Stand Up Paddle Board Review (2020)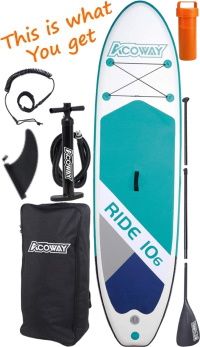 Acoway 10'6 iSUP board is poorly documented, but a very stable cruising oriented all-around on the cheap. The reported max paddler weight capacity is 400 pounds, but a more realistic one in my opinion would be up to around 280 lbs. The brand is untraceable and likely of Chinese origin. There's no clear case of warranty present nor is there proper customer service in place. It unfortunately has a few too many red flags for me to recommend buying it.
Paddleboarding is a fun experience although it doesn't look like it from a bystander's point of view. There are quite a few great options to choose from even among the cheapest of inflatable paddle boards. Here, have a look: Best Cheap Inflatable Paddle Boards (links to an article, opens in a new tab).
Regardless of that, you can check its price here: Acoway 10'6 iSUP package.
A Quick Overview For The Hasty
The Acoway 10'6 iSUP board measures 10'6 x 32″ x 6" (length x width x thickness). It has a max weight capacity of 400(?) pounds, weighs 22 pounds, and comes with everything you need to get on the water.
My first impressions were pretty bad seeing this board's documentation. Descriptions say one thing, but the real thing is tad bit different. Take for example the claim that it's 33 inches wide. Well, the board came 32 inches wide. And this was one of the most obvious inaccuracies I came across. But looking past those red flags, I'm still eager to figure out what this board package is about.
It's a fairly generic, if not low quality, all-around inflatable stand up paddle board on the cheap with an untraceable brand logo on it. The design choices remind me Red Paddle Co's design, but obviously at a much lower quality, and there's no way to check things because, well, "untraceable", and I'm not willing to stick a knife in it to have a closer look just yet…
Who And What Is the Acoway 10'6 iSUP Designed For?
Who: small and heavy paddlers weighing up to 280 pounds (max reported 400 lbs);
What: cruising oriented all-around for recreational paddling on flat waters.
As you already know, the board is only 10 ft long and thus it is suitable for average sized or smaller paddlers weighing up to 280 pounds. As far as tall paddlers are concerned, they may not fit or have problems using this board when it comes to stability even though it's 32 inches wide. Boards made for tall paddlers are usually 11 ft long.
Given it's overall quality, it's better suited for some recreational paddling on calm waters, hence the "cruising oriented", and not so much for the more extreme areas of sup such as white water river riding or surfing and the like, more like yoga, fishing, cruising, etc.

How Does the Acoway 10'6 iSUP Perform?
Acoway 10'6 iSUP is mainly:
When it comes to stability, the Acoway 10'6 iSUP gives you a pretty good performance. This board is designed to give you maximum balance and control while using it. The length width ratio is clearly more for stability rather than for speed. The rectangular rounded tail and the 3 fins only add to that.
However, it's also moderately maneuverable as it's not too long and has the 2 side fins. The tail shape, although rectangular'ish (squash), doesn't make the turns feel too clunky as the tail is relatively rounded still while providing more surface area.
All that slows the board down however, meaning you can't build up decent speed with it. It will feel like you're cruising on the water. The rocker at the nose doesn't help with cutting through water, creates excess water resistance, add to that the overall short length and width which creates additional water resistance, top it all off with the tail which creates a little more drag on the water when compared to a fully rounded tail, and you get a pretty slow moving, but stable board for cruising, yoga, fishing, etc.

What Are the Specifications of the Acoway 10'6 iSUP Board?
Specifications of the Acoway 10'6 iSUP:
Type: cruising oriented all-around
Color: blue
Construction: inflatable
Length: 10'
Width: 32"
Thickness: 6"
Weight: 22 lbs
Weight capacity: 400 lbs
Materials: PVC
Type
It's a cruising oriented all-around. Normally I'd say an all-around can be used in all types of water conditions and SUP activities, but this one's quality is questionable and I can't trust the descriptions as much, so this one is more suitable for flat waters and cruising, yoga, and fishing rather than surfing or whitewater.
Colour
The Acoway 10'6 iSUP is available in a single blue colour.
Construction
This is an inflatable board which means it's filled with air (and you can deflate it, roll it up, and store away, too). It is provided with a generic simple hand pump which has a pressure gauge on top. The recommended max PSI is 15, but 12 to 14 is fine as well.
Length
The board is only 10 feet long. The short length of the board hinders speed, but makes the board cost less and in some cases doesn't need a launch permit to use (longer than 10′ watercrafts need one in some places).
Width
The width of the board is 32 inches which together with the relatively short length of the board make it very stable even for the heavier paddlers.
Thickness
The board is 6 inches thick, fairly typical for iSUPs nowadays. Ideal would be 5 inches, but thicker boards do feel more rigid and stable.
Weight
The board weighs only 22 lbs. This makes it easy to carry and travel with even for petite women.
Weight capacity
Acoway 10'6 iSUP reports weight capacity of 400 pounds, but given the inaccuracies in the descriptions, I don't quite trust that number. This would put it on bar with high-end boards, but at the fraction of the cost, so… The more realistic max paddler weight would be somewhere around 280 lbs.
Materials
The Acoway 10'6 iSUP is likely made of single layer PVC material along with a drop-stitch core. That alone doesn't say too much though – I'd like to know how well those elements are connected together, but, as I mentioned earlier, I haven't yet stuck a knife in it to find out.

What Is Acoway 10'6 Inflatable Paddle Board Made of?
Acoway 10'6 iSUP board is likely made of:
It's likely got a typical construction common for cheap iSUPs likely manufactured in China or the like. That is a drop-stitch core held together by a layer of fabric. Around that is a PVC layer, but just one. At the rails there's like double layer of PVC tape.
It would be important to know how well those elements are put together so as to determine the true quality of the build, but I haven't stuck a knife in one to check things out yet.
Either way, a single layer construction is fine for casual recreational paddling, especially considering that this one is kind of knowingly built for just that, so it would make sense that the construction is in line with it's use (yoga, fishing, casual cruising on flat waters).
So it's not so much the quality of the construction as it is about customer support and warranty because cheaper iSUPs tend get borked more easily, and when there's nobody dealing with them, you're left alone with those problems, and that's an issue.
Anyway, here, have a quick read on the construction of inflatable paddle boards (link opens in a new tab).
What Are the Features of the Acoway 10'6 iSUP Board?
The main features of the Acoway 10'6 iSUP include:
Bungee storage area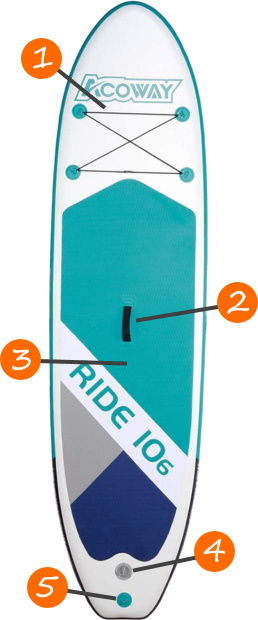 Just like most another paddleboard, even Acoway 10'6 iSUP comes with a 4 point bungee storage area. This allows you to store all your important accessories in it.
Carry handle
The board is equipped with a carry handle right in the middle. With the help of this carry handle, you can carry the board wherever you want.
Deck pad
The top deck is made of a soft, cushioned material. The deck is designed with a non-slip traction pad that gives the paddler greater balance in the water.
Valve
The inflation valve is an important part of the board. It is located at the rear end through which you can inflate your board.
Fins
The board comes with a there fin design. The bigger fin is detachable while the other two are not. This allows you to gain full control while steering the board in the water.
What Else Is Included In the Acoway 10'6 iSUP Package?
The Acoway 10'6 iSUP comes with all you need to get on the water.
Backpack
The Acoway 10'6 iSUP board package comes with a fairly generic backpack that can accommodate the entire deflated board along with all the accessories. As it's a bit lower quality one, try to handle it with more care (as in no rough handling) and you should be fine.
Paddle
The package also includes a 3-piece adjustable aluminium SUP paddle. Also pretty generic, but still decent enough for casual paddling. It's when you're taking it more seriously (race, whitewater, surf, etc) you may want to invest in a good paddle. Here's some more info on SUP paddles for future reference.
Pump
Acoway 10'6 iSUP Board package comes with a simple air pump with a pressure gauge one top. This is used to inflate the board.
Ankle Leash
This is probably the only accessory item where the quality doesn't play big enough role to matter almost, especially for casual paddling. It's a coiled ankle leash which you can attach to the D-ring at the rear of the board on a windy day so as to not get separated from the board. Here, have a read on SUP safety.
Repair kit
The board also comes with a repair kit in the form of an orange cylinder plastic container. It includes a valve wrench, PVC patches, and likely also PVC adhesive (glue). With the valve wrench you can tighten the valve every now and then as they may come a little loose over time and start leaking air, always good to have one. I wouldn't trust the glue too much as it might be of lower quality, so if you had a more serious issue, a proper PVC adhesive might be in order. More info on stuff like that in this article.
So Is the Acoway 10'6 Inflatable SUP Package For You?
I'd argue that there are better options out there at this price point, but it can still serve the purpose as it is cheap as long as the design was to your liking. I don't see a way how to minimize the risks were it to arrive with a defect rendering the board useless as there's not much of a customer support despite the description saying otherwise There's also no mention of warranty and the brand is untraceable unfortunately. It's a risky purchase.
But, if you were looking for a cruising oriented all-around with stability being a key attribute, and you really liked the design, I can't stop you. But if you you were a tall person, then there's your excuse to find another one. 10′ long boards in flatwater conditions are better suited for average or smaller person.
Best way to buy stand up paddle boards would be from physical shops. That way you could gain much needed info, advice and tips from the enthusiastic sellers there (assuming they were enthusiastic…).
If purchasing from a physical store was not an option, there are still online stores to check out.
Check the price or buy here: Acoway 10'6 Inflatable SUP Package.
Conclusion
The Acoway 10'6 iSUP can be an option for all the small paddlers. It gives you good stability, balance, and control. It is also quite easy to maneuver this board. Paddlers weighing up to 280 lbs or less can use this board in calm water conditions and that too for a range of activities (cruising, yoga, fishing).
Included accessories
The Acoway 10'6 iSUP comes with all the accessories you need to get on the water. That includes an 3-piece adjustable aluminium paddle, simple air pump, generic backpack, coiled ankle leash, and a repair kit.
Warranty
There seems to be not much of a warranty there. Most likely it simply doesn't have one, so you mainly have to rely on the seller's return policies and such.
Where to Buy
It's simple, consider buying from here: Acoway 10'6 iSUP Package.
EXTRA READING
(Links open in a new tab)
The TOP 13 Best Inflatable Stand Up Paddle Boards in 2020 | post | sunsetpaddler
Best Cheap Inflatable Stand Up Paddle Boards in 2020 | post | sunsetpaddler
Exploring Inflatable SUP Accessories & Their Uses | post | sunsetpaddler
Pink Inflatable Stand Up Paddle Boards in 2020 | post | sunsetpaddler
Magnificent stand up paddle board Stickers | post | sunsetpaddler
How much do inflatable SUP boards cost? | post | sunsetpaddler
Is a cheap inflatable SUP worth it? | post | sunsetpaddler
How to choose a SUP paddle? | post | sunsetpaddler
iSUP care & maintenance | post | sunsetpaddler
SUP buying guide | post | sunsetpaddler
SUP boards list | post | sunsetpaddler
What is PVC? | post | sunsetpaddler
SUP safety | post | sunsetpaddler