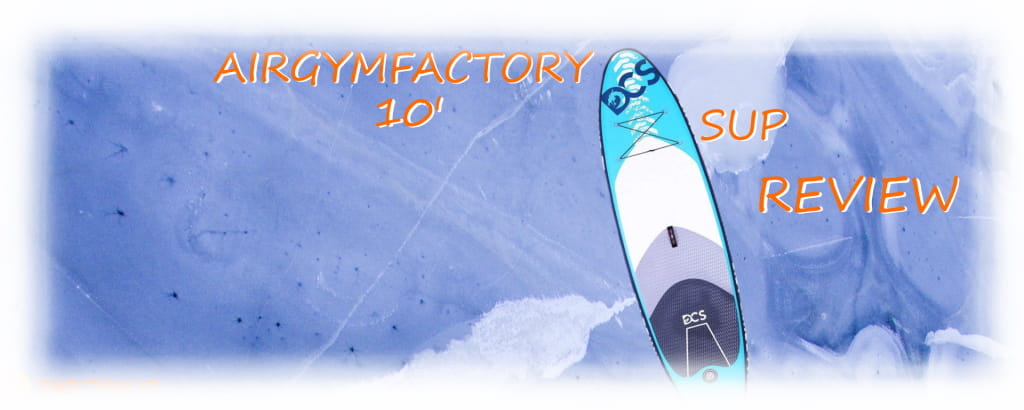 Airgymfactory 10' Inflatable Stand Up Paddle Board Review (2020)
OLD VERSION
This review is about the old version of this board. The new one seems to be a downgrade in comparison… You missed out.
Airgymfactory 10' inflatable SUP, a DCS paddle board, is just phenomenal. The quality is easily that of a higher end board, it's otherwise an aesthetically pleasing all-around cruiser weighing just 18 lbs. The max weight capacity is 400 lbs which means even the heavier paddlers (realistically up to 280-pound paddlers) can make good use of it. It's got a better construction and hence better quality than any other iSUP in this price range.
Normally I try to make a funny remark in this paragraph, but I'm a little too shocked by the value of this board package instead and can't get my mind off of it…  Unironically mind blown. It's a bit fishy, but they deliver, so…
The old version has been scrapped and replaced with a new version: Airgymfactory 10′ iSUP (the new version).
A Quick Overview for the Hasty
Airgymfactory 10′ iSUP measures: 10' x 32″ x 6″ (length x width x thickness). The max weight capacity is 400 pounds, the board itself weighs 18 pounds, and the package comes with everything you need to get on the water. I'll make it real obvious what a bargain this is, but it's not in this section that I do so.
Airgymfactory 10′ iSUP from DCS SUP is a sharp looking high quality cruising oriented all-around as it's mainly stable yet maneuverable and still enough speed to it to have a good ride with. Construction quality is also mighty fine.
As its max weight capacity is 400 pounds and the max PSI can go up to 20, it's safe to say it's suitable even for the heavier paddlers. However, given it's length/width ratio, I'd realistically recommend it for up to 280-pound paddlers, perhaps even heavier, assuming you weren't too tall on top of the weight (in which case you might need a bit longer board – check with SUP buying guide below). For average sized paddlers it will feel comfortably stable. The extra weight is more for additional equipment and/or passengers at lower levels (pets, kids, companions, etc).
In case you were wondering whether such a cheap iSUP was worth it, it's hard to find a better offer at this price point (excluding ones with stupid high discount).
Who and What Is the Airgymfactory 10' Inflatable SUP Board Designed for?
Who: anyone weighing up to 280 pounds (max weight capacity 400 lbs)
What: all-around cruiser (lakes, rivers, seas, etc; tiny bit of yoga, fishing, recreational paddling, riding small waves, etc).
Who is this for? Given its length (10′) and width (32″) ratio, it'd be fine for even a heavier paddler weighing up to 280 pounds, I'd say. However, if you were a taller person while at the same time rather heavy, then the 10′ length would hold things back (meaning you'd need a longer board). For an average sized or smaller individual, this board would feel very stable. So in that sense, it would make a stable all-around cruising oriented iSUP board overall.
What is this for? Cruising oriented all-around that would feel fairly stable in even choppier water conditions. A jack of all trades and master of none, they say. Given it's good construction quality and carbon fiber paddle, this could even be used in white water river riding. Otherwise good for mainly cruising and recreational paddling, also some yoga, surfing small waves, fishing, etc.
Take a quick look at this SUP Buying Guide for things to make more sense (link opens in a new tab).
How Does Airgymfactory 10′ Inflatable Paddleboard Perform?
Airgymfactory 10' iSUP is mainly:
The width/length ratio is leaning towards stability, so there's that. If you took a closer look at the board design as well, you'd find a rectangular shaped tail. This adds to the already stable ratio. This makes it stable enough even for a heavier paddler, which is nice. There aren't too many cheap iSUPs that can handle heavier paddlers.
However, when it comes to maneuverability, such a tail doesn't exactly make turning feel smooth, though it doesn't stop you from doing step-back turns entirely either of course. Simply just a rounded tail step back turn feel smoother in comparison. Overall, it's still plenty maneuverable, so don't worry if I make it sound otherwise.
As for speed, you won't be winning a race tournament with it, that's for sure. I like to call it a cruising oriented all-around because of that. Usually the longer the board, the more speed you can build up. That essentially means that the width of this Airgymfactory 10′ iSUP is holding things back when it comes to speed, and the tail also has more drag on the water behind as you go. Add to that the length which throws the length/width ratio off a little when compared to a true all-around that's exactly in the middle of those extremes.
Unless you're immortal, you may want to give this a quick read: SUP Safety.
What Are the Specifications of Airgymfactory 10' iSUP Board?
Type – All-round
Construction – Inflatable
Length – 10'
Width – 32″
Thickness – 6″
Weight – 18 pounds
Weight Capacity – 400 pounds
Material– double layer PVC
Type:
Airgymfactory 10′ iSUP is an all-around. It's a type of paddle board that's essentially good for any SUP activity to some extent, a jack of all trades, master of none.
Construction:
It's inflatable. The inside is filled with air. It's held together by tough materials so it's not a fragile floating balloon or anything. It's usually these inflatables instead of hard boards that are used in white water river riding, and that should give a hint at how strong inflatables actually are. The inflation valve is located at the rear of the board and the recommended PSI is 15, but Airgymfactory 10′ iSUP can go up to a maximum of 20 PSI which is quite a lot higher than most inflatables on the market.
Length:
The board is 10 feet long. 10 feet long boards are better for average sized paddlers when it comes to all-arounds. Generally the longer the board, the more speed it can build up.
Width:
Airgymfactory 10′ iSUP is 32 inches wide. Wider boards feel more stable. A 10 feet long 32 inch wide board is very stable.
Thickness:
The ideal thickness at this thickness would be 5 inches, but this iSUP is 6 inches thick. Most inflatable boards nowadays are 6 inches thick. Thicker boards tend to feel more sturdy and stable.
Weight:
Airgymfactory 10′ iSUP is lightweight, weighing 18 pounds. If it was too lightweight, it would be more susceptible to winds.
Weight Capacity:
The max weight capacity is 400 pounds. That's quite a lot more than other iSUPs in this price range. Usually boards with such construction quality cost a lot more. Regardless, due to the design of the board, I'd see up to 280-pound paddler getting a decent enough experience out of it. It's wide enough, but the length is holding things back for larger (taller in addition to being heavy) paddlers.
Material:
Airgymfactory 10′ iSUP is using a rather unique material for strengthening the air filled space at the core of the board. Around that is a double layer PVC with a layer of rubber in-between and finally EVA deck pad around all that. + EVA foam deck pad to stand on.
What Is Airgymfactory 10' Inflatable Paddle Board Made of?
Airgymfactory 10' iSUP board is made of:
The core material is made up of glass fiber drop-stitch material in a unique way unlike most other iSUPs. The core is then surrounded by 2 layers of PVC with a layer of rubber in-between them, and finally EVA foam deck pad on top.
There are 3 PVC layers at the rails. Usually the rails are the weakest point in the construction because they hold together both the top and bottom half of the laminated layers of the board as a whole.
Airgymfactory 10′ iSUPs construction is stronger than just a single layer PVC. This is more than fine for an all-around meant for recreational paddling. This construction allows for more weight when compared to other iSUPs in this price range.
Here some more info on construction of inflatable paddle boards (link opens in a new tab).
What Are the Features of the Airgymfactory 10′ iSUP Board?
Airgymfactory 10′ Inflatable stand up paddle board has just a handful of fairly basic features:
Bungee storage area
Carry handle
Deck pad
Inflation valve
D-ring (1)
Carry handle
Fins (3)
1 – 4-point bungee storage system
Located at the nose of the board is a 4-point storage system, a bungee cord attached to 4 D-rings. There you can store additional equipment.
2 – center carry handle
Right in the middle of the paddle board is a carry handle from which you can lift and carry the board.
3 – EVA foam traction pad
There's a soft non-slip grooved EVA foam traction pad for you to stand on.
4 – high pressure inflation valve
At the rear of the board is the high pressure inflation valve. This is where you can pump air into the board using the pump. The recommended PSI is 15, but the maximum is 20 PSI. In case it leaked air on first try, try not to panic and see if a valve wrench came with the package. You can tighten the valve with the wrench as sometimes the valve can come a little loose over a long period of time as it's being transported and whatnot.
5 – D-ring (1)
A single D-ring at the rear of the board behind the inflation valve. This is used mainly for attaching the leash, but sometimes also for towing, anchoring, and the like
6 – rear carry handle
A carry handle at the back. I know what you might be thinking, that it'd be easy to drag the board across the ground rather than having to lift the entirety of the board, but that's not a good idea in the long run. Even dragging a board on the sand can cause wear and tear over time.
7 – fins (3)
I'm aware that the descriptions say that all 3 are removable, but mine came with just the middle bigger one being removable and the 2 side fins being fixed. To me, that's not really a problem, but just something to be aware of. Additionally I should add that fins improve the tracking of the board, meaning that the board goes more straight rather then turning too much as you paddle, allowing you to build up some speed. You can remove the bigger one when in shallow waters.
What Else Is Included in the Airgymfactory 10′ Inflatable SUP Package?
The Airgymfactory 10′ iSUP package includes everything you need to get on the water. That is: paddle, manual pump, backpack carry bag, dry bag, but also a repair kit, the board itself and the fin of course.
Paddle

Carbon fiber 3-piece adjustable floating SUP paddle. Carbon fiber is better than aluminium, also lighter in weight. That's a good paddle for such a low priced iSUP package. Learn more about SUP paddles here (link opens in a new tab).
Leash
A coiled ankle leash is also included in the package.
Pump

High quality double action high pressure Bravo pump. Good stuff. It's got a pressure gauge on top which might start to register the air pressure inside at 7 PSI. The recommended PSI for the board is 15 at which it's surprisingly rigid even in choppy waters. The max PSI the board can support is 20. It's a bit of a workout to get to the recommended 15 PSI even with this pump.
Backpack
It's a good quality backpack carry bag that can hold the entire package and some more.
Dry bag
Waterproof 10L PVC dry bag keep the gear dry.
Repair kit
The repair kit includes a valve wrench and some PVC patches for patching up "accidents". The valve wrench is a useful thing as sometimes the valve might come loose over time during transport or simply just rough after some rough handling when it's not yet being used. So, before thinking you got a borked board after you've inflated it for the first time and I you feel air coming out from the valve area, know that all it takes to fix it is to tighten the valve once it's deflated.
So Is Airgymfactory 10' Inflatable SUP Board Package for You?
Everything speaks high quality in this package, and that for so cheap…
One of the only reasons it might not be for you was if aesthetically it didn't click with you or you didn't look for a stable inflatable paddle board. Another reason against it would be in the case if you were a tall person and didn't look to surf small waves or do much of any whitewater river riding. A taller person should opt for a longer board than 10′ in case of an all-around, but a longer version of this board is not that cheap anymore.
If it's a good match for you, you can't really go wrong with this one if your budget was small. It's one of the best cheap inflatables on the market this year.
Best way to buy stand up paddle boards would be from physical shops. That way you could gain much needed info, advice and tips from the enthusiastic sellers there (assuming they were enthusiastic…).
If purchasing from a physical store was not an option, there are still online stores to check out.
Check the price or buy here: Airgymfactory DCS 10′ Inflatable SUP Package (the new version).
Conclusion
DCS Airgymfactory SUP is a relatively new brand I can't quite track down on the web. Some sources trace back to a Chinese company, but even that is very obscure… Regardless, the board package itself is of super high quality relative to the price and it's got support. I'd say it's this year's best value for money iSUP package.
As long as your weight is less than 280 pounds, up to 400 would be stretching it given the size and design of the board, and the style of the board was to your liking, you're probably looking at one of the best cheap option this year.
DCS SUP brand
Their website was dcssup.com, but it's now taken down. The "airgymfactory" is basically untraceable. A remnant of this brand has lead me to a Chinese company JIANGSU NEWTO SPORTS EQUIPMENTS CO.LTD dealing with air mats meant for gymnasts. I guess they tried to break into the Western market, but have no real presence here. From all that I get the impression that they actually know what they're doing and aren't just a weird knock-off company behind this board. But yeah… they do lack a confidence instilling presence here.
Included Accessories
Airgymfactory 10′ iSUP board package includes a 3-piece adjustable carbon fiber paddle, backpack carry bag, high-pressure handpump, 3 fins (1 of which removable, the center bigger one), a dry bag, and a repair kit.
Where to Buy
It's simple, buy here: Airgymfactory 10′ iSUP Package (the new version).
EXTRA READING
(Links open in a new tab)
The TOP 13 Best Inflatable Stand Up Paddle Boards in 2022 | post | sunsetpaddler
Best Cheap Inflatable Stand Up Paddle Boards in 2022 | post | sunsetpaddler
Exploring Inflatable SUP Accessories & Their Uses | post | sunsetpaddler
Pink Inflatable Stand Up Paddle Boards in 2022 | post | sunsetpaddler
Magnificent stand up paddle board Stickers | post | sunsetpaddler
How much do inflatable SUP boards cost? | post | sunsetpaddler
Is a cheap inflatable SUP worth it? | post | sunsetpaddler
How to choose a SUP paddle? | post | sunsetpaddler
iSUP care & maintenance | post | sunsetpaddler
SUP buying guide | post | sunsetpaddler
SUP boards list | post | sunsetpaddler
What is PVC? | post | sunsetpaddler
SUP safety | post | sunsetpaddler