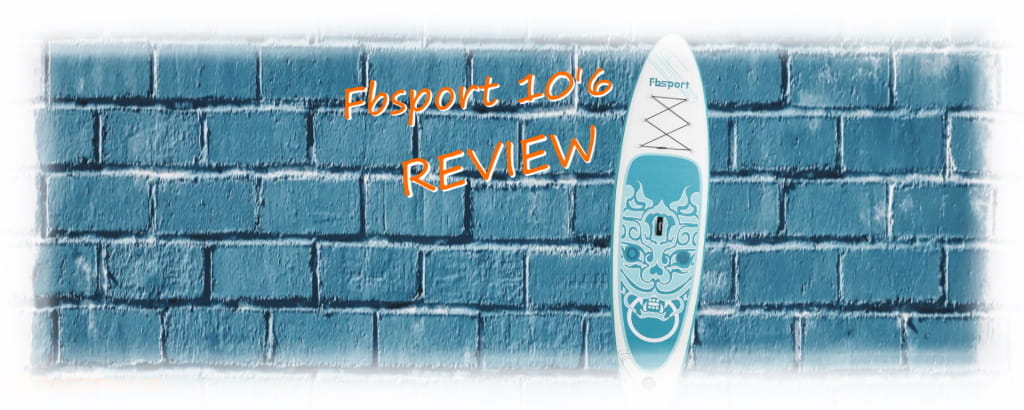 Fbsport 10'6 Inflatable Stand Up Paddle Board Review (2021)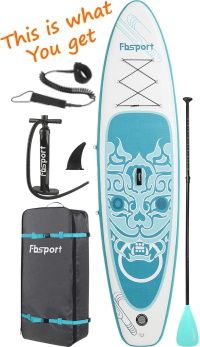 The Fbsport 10'6 Inflatable Stand Up Paddle Board is one of the more cheaper all-arounds on the market whilst not being of relatively decent quality. It's for the more recreational SUP activities, whether it be cruising, fitness, fishing, and the like, and thus for all skill levels, too. The maximum weight capacity is 280 pounds.
SUP has grown in popularity quite a bit over the last few years. Here's a chance to find out what the fuss is about by giving these things a try yourself. It might not look very appealing from a bystander's point of view, but it's definitely an experience worth going through.
You can check its price here: Fbsport 10'6 iSUP package.
A Quick Overview For the Hasty
The Fbsport 10'6 Inflatable Stand Up Paddle Board measures: 10'6 x 31″ x 6″ and weighs 22 pounds. It has a max weight capacity of 280 pounds and comes with everything you need to get on the water.
This paddleboard is decent enough for paddlers of any skill level and is suitable for recreational paddling on most water conditions as it's an all-around. It is, however, more suitable for cruising, fishing, short-touring, snorkeling, and the like, in other words recreational paddling preferably on calmer waters. Apart from the board itself, the package comes complete with all the accessories you'd need to get on the water which include: a SUP paddle, pump, backpack storage bag, coiled ankle leash, emergency whistle, and detachable fin.
Who and What Is the Fbsport 10'6 Inflatable Stand Up Paddle Board Designed For?
Who: paddlers of all skill levels weighing up to 280 pounds.
What: all-around, but mainly recreational paddling like cruising and the like on calmer waters.
With dimensions of 10'6 x 31" x 6" and the max weight capacity of 280 pounds, the Fbsport 10'6 iSUP is suitable for average sized adults, teens, and children, or slightly bigger even. I wouldn't recommend it for individuals who weigh around 280 exactly given the construction quality and their own set limitation even though it will likely handle even more than 280lbs, but that's just me. However, significantly taller or heaver paddlers might not find it super stable as it's not wide enough for the extremely heavy and not long enough for the very tall folks. Check with this SUP Guide for more insights on that stuff. Ultimately though, once you learn to balance yourself it doesn't really matter unless you wanted a super stable board (assuming you were heavy/tall person – it's perfectly fine for average sized ppl).
Since it's a fairly cheap board, it's probably cheaper for a reason, and so I wouldn't take it to surfing big waves or whitewater river riding but rather for the more recreational types of SUP activities on calmer waters, though a little chop won't really be a problem. That would mean cruising, short-distance touring, fishing, yoga, surfing small waves, and the like on primarily lakes, but also on calmer rivers, seas and oceans.

How Does the Fbsport 10'6 Inflatable Stand Up Paddle Board Perform?
 The Fbsport 10'6 iSUP is mainly: 
When it comes to stability, it's what's you'd expect from an all-around. It's plenty stable, but not overly so. The rounded square tail is the main element apart from the boards width that adds to the stability as it creates more of a deck for you to stand on (+ the fins and nose that's got a little rocker to bounce off small chop a little bit while cutting through the water decently enough).
As for the maneuverability, the tail, again, allows for more space on the deck to stand on which makes turns easier while making the board a bit more stable in general. It's not too squared nor is the tail too pointy and so the turns won't feel super clunky either.
Speed is something I'd say is the least prominent when compared to stability or maneuverability, but it's not at all far behind and overall is a good mix of it all. And the culprit, again, the tail, which will hinder a good long glide making you use the paddle more often to maintain the speed, but really I'm just making it sound worse than it really is… It's a fairly typical all-around when it comes to performance at the end of the day.

What Are the Specifications of the Fbsport 10'6 Inflatable Stand Up Paddle Board?
Specifications of the Fbsport 10'6 Inflatable Stand Up Paddle Board:
Type – all-round

Color – white + light blue

Construction – inflatable 

Length – 10'6

Width – 31"

Thickness – 6"

Weight – 22 pounds

Weight Capacity – 280 pounds

Materials – drop-stitch inner core, 1.2 mm layer ultra-thick PVC outer skin, EVA deck pad
Type: 
The Fbsport 10'6 Inflatable Stand Up Paddle Board is an all-round paddle board that you can use for almost any SUP activity and water condition. Its high-quality material can withstand rigorous sports and competitions while making it also ideal for recreational paddling. Adults, teens, and children can all use this paddleboard, regardless of skill level and purpose, realistically speaking.
Color: 
This inflatable stand up paddleboard comes in white + light blue and white + pink'ish.
Construction: 
The Fbsport 10'6 Paddle Board has an inflatable construction, making it easy to deflate and transport. Deflated, it is similar to the size of a sleeping bag, which you can store and carry using the included backpack. The max PSI for this product is 15 psi.
Length: 
This paddleboard is 10'6 long which is not too long nor is it short. It's long enough to fit 2 ppl on it, so children and pets are not a problem to have with you.
Width: 
It's 31 inches wide which is, again, not too wide nor too narrow. Normally they're 30 inches wide which for some may feel less stable than they would like, so 31 would be ideal for those ppl. 
 Thickness: 
The paddleboard is 6" thick and made with high-quality military-grade material with an inner drop-stitch and 1.2mm PVC around it.
Weight: 
The Fbsport 10'6 Paddle Board is lightweight, weighing only 22 pounds. The weight plays a role in helping the paddler easily maneuver and steer it, while still indirectly providing stability in rough waters, all things considered.
Weight Capacity: 
This Fbsport paddleboard has a maximum weight capacity of 280 pounds and it sounds about right given the dimensions and overall design of the board.
Materials: 
This paddleboard boasts of superior construction made with high-quality durable material. The reality is that it's really a very typical cheap construction. The inner core is made of a typical drop-stitch material surrounded by base cloth. The outer shell is a 1.2mm thick PVC along with an extra layer on which is the soft diamond-grooved EVA foam deck pad, making it family and pet friendly, scrape resistant, anti-UV, and anti-aging. The soft surface also helps prevent slips and falls, and in case of accidents, provides a much softer landing surface.

What Is Fbsport 10'6 Inflatable Paddle Board Made of?
Fbsport 10'6 iSUP board is made of:
probably a (reinforced) single layer PVC
There's the base cloth around the drop-stitch core and a PVC layer around the cloth layer on top of which is a final protective layer of some sort. I'd say it is better than a super average single-layer build, but nowadays typically they've got 2 layers along with those same elements as this single layer one.
What concerns me more is the rails which only seems to have 1 PVC layer. One can only hope the connection between this 1 layer at the rail and the top and bottom half of the board's overall PVC layer is top notch, but that's almost like a gamble.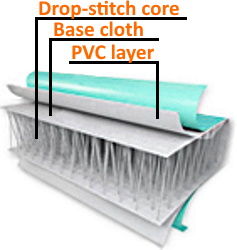 Still, it's decent enough of a build for recreational paddling on calmer waters. I suspect the build is also the reason for the relatively low maximum weight capacity, though I might be wrong on this one. In relation to that, I'd consider the recommended max PSI of 15 to be an actual max above which you might not want to go at all.
For more info: construction of inflatable paddle boards (link opens in a new tab).
What Are the Features of the Fbsport 10'6 Inflatable Stand Up Paddle Board?
Features of the Fbsport 10'6 Inflatable Stand Up Paddle Board:
Bungee cord storage area

Carry handle
Deck pad

D-rings (2)

Valve

D-ring (1)

Fins (3)
1 – bungee cord storage area


The bungee cords are located on the nose of the board. It is made with a durable elastic string that allows you store items under.
2 – carry handle 
The handle is conveniently located at the center of the board for easy carrying (unless you were petite).
3 – deck pad 
The board has a soft EVA foam deck pad in a diamond grooved texture to provide a non-slip and soft standing platform for paddlers. The deck material makes the board suitable and safe for use of children and pets. It is a much softer and safer surface that prevents accidents and lessens the impact should the paddler fall or slip.
4 – D-rings (2)
For some reason, the board is equipped with a pair of D-Rings (2) at one side only and not the other. Usually there are 2 pairs on each side so as to attach a kayak seat or storage boxes, chairs, etc, but this setup is limited to only attaching a shoulder strap to carry the board when inflated…
5 – valve 
The high pressure air valve is located at the rear of the board. It's an easy twist plug, making inflating and deflating easy (see instructions). At the same time, the plug is durable enough to effectively hold air in for safety while paddling.
6 – D-ring (1)
The D-Ring that holds the ankle leash is conveniently located at the rear of the board close to the air valve. This is where paddlers attach their ankle leashes in order to stay connected with the board during paddling. In heavier winds, the board might drift away faster than you can swim. Check with this SUP safety article.
7 – fins (3)
The Fbsport Paddle Board has 2 fixed bottom panel fins and 1 detachable center fin. These three combined help improve speed, maneuverability, glide, and stability. In more shallow waters, the detachable fin can easily be removed.
What Else Is Included In the Fbsport 10'6 Inflatable Stand Up Paddle Board Package?
 The package includes a paddle, pump, carry bag, coiled ankle leash, emergency whistle, and a detachable fin.
Paddle 
Apart from the board itself, the package includes an adjustable 3-piece aluminum paddle that is said to float, but I've only ever seen aluminum paddles sink after a short period of floating instead. It can be disassembled into 3 smaller parts for easy storage in the included backpack. The parts are extendable as well, enabling it to cater to paddlers of any height. You can learn more about SUP paddles from the article linked.
Pump 
The high-pressure pump included in the package is dual-action and is equipped with a pressure gauge to help you make sure you're not exceeding the board's max PSI of 15 psi as its the recommended max wherein 12-14 PSI would be fine too. Usually the pressure gauge starts showing the pressure at around 7 PSI.
Backpack carry bag 
A simple backpack carry bag for easy storage and carry. Deflated, the board can be rolled to easily fit in the bag with extra room for all the included materials and accessories. 
Ankle leash 
The ankle leash is meant to keep you connected to your board while paddling. In case you slip or fall, the ankle leash attached to the D-Ring at the bottom back corner of the board will help you find your way back to your paddleboard. The leash is coiled in order to give you freedom of movement while paddling, without having to worry about the leash getting tangled up when compared to a straight leash.
Emergency whistle 
The package also came with a waterproof emergency whistle at the time of writing this review. I've gotten the impression that it might not be included later on, but that's not a big loss or anything. If you do get one, you should carry it with you every time you go paddling to enable you to easily call for help in case of emergencies unless it's some pond-like lake where it might not make too much sense. You get the point. Check with this article on SUP safety just in case.
Detachable fin 
The detachable fin can be attached to the board when it's half-way inflated to ensure that it's locked in securely. The extra fin helps make the board more stable and improves gliding ability. You can remove the fin when paddling in shallow waters so as to avoid damage to it.
So Is the Fbsport 10'6 Inflatable Stand Up Paddle Board Package For You?
It might be for you if you were looking for an all-around inflatable stand up paddle board for recreational paddling on calmer waters while weighing up to around 280 pounds given the dimensions and overall design, or perhaps even more than that (the recommended max, even though manufacturer's translated max is way, way lower than all the seller's descriptions for some reason…). I suspect it's the construction quality that is holding it back, but for recreational paddling it's just fine.
It might not be for you if you wanted it to go through some more rough handling like whitewater river riding or full-blown surfing even the bigger waves. And, it might go without saying, but the board won't fast enough to win any races and so forth either.
Best way to buy stand up paddle boards would be from physical shops. That way you could gain much needed info, advice and tips from the enthusiastic sellers there (assuming they were experts on the field…).
If purchasing from a physical store was not an option, there are still online stores to check out.
Check the price or buy here: Fbsport 10′6 Inflatable SUP Package.
Conclusion
The Fbsport 10'6 Inflatable Stand Up Paddle Board is a little better than average cheaper all-around with a weight capacity of 280lbs along with a couple of odd features (a pair of random D-rings at one side of the rails only rather than on both sides). It's otherwise suitable for average sized paddlers or smaller and for people of all skill levels looking to do some recreational paddling. There seems to be no real warranty in place.
Included accessories
Fbsport 10′6 iSUP package includes the adjustable 3-piece SUP paddle, detachable main fin, manual pump, backpack, an ankle leash, and an emergency whistle.
Warranty
It doesn't seem to boast a warranty of any kind, so you'll probably have to rely on the actual retailer's policies. To get help directly you'd have to find their Facebook page and hope for the best – I haven't managed to reach them just to confirm these things unfortunately.
Where to Buy
It's simple, buy here: Fbsport 10'6 iSUP Package.
EXTRA READING
(Links open in a new tab)
The TOP 13 Best Inflatable Stand Up Paddle Boards in 2023 | post | sunsetpaddler
Best Cheap Inflatable Stand Up Paddle Boards in 2023 | post | sunsetpaddler
Exploring Inflatable SUP Accessories & Their Uses | post | sunsetpaddler
Pink Inflatable Stand Up Paddle Boards in 2023 | post | sunsetpaddler
Magnificent stand up paddle board Stickers | post | sunsetpaddler
How much do inflatable SUP boards cost? | post | sunsetpaddler
Is a cheap inflatable SUP worth it? | post | sunsetpaddler
How to choose a SUP paddle? | post | sunsetpaddler
iSUP care & maintenance | post | sunsetpaddler
SUP buying guide | post | sunsetpaddler
SUP boards list | post | sunsetpaddler
What is PVC? | post | sunsetpaddler
SUP safety | post | sunsetpaddler